"Must Read" Articles:
Differences with
Greyhound
Blood Work
What to do if Your
Greyhound is Lost

Buy dog food & help greyhounds ...


Free Shipping on Dog and Cat Food

Welcome to The Villages Greyhound Club
We are a group of individuals who love Greyhounds. We enjoy getting together to talk about our hounds, while educating the public on Greyhound racing as well as Greyhound Adoption.
We do this through activities in the community. Our Greyhounds love spending time with each other at gatherings in the town squares, here in The Villages and other venues in our area.
If you are interested in joining our group, even if you do not have a Greyhound, you are most welcome! Please feel free to contact me at 352-753-6563.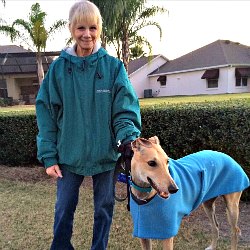 Carol Bellavia, President

| | |
| --- | --- |
| Our site is best viewed by using Google | |

Upcoming Events:
Please Note: Events may be cancelled due to weather ... please check with us before attending.
Wednesday, January 9
Greyhound Gathering / Walkabout
6:00 PM – 7:00 PM
Spanish Springs Town Square
Saturday, January 19
Greyhound Gathering / Walkabout
10:00 AM – 11:00 AM
Brownwood Square (Meet at Theatre)
Saturday, January 26
(Tentative Date)
Pancake Breakfast
Applebees
Tuesday, February 5
Greyhound Gathering / Walkabout
6:00 PM – 7:00 PM
Lake Sumter Landing
Saturday, February 16 (Tentative Date)
Night Golf
Saddlebrook Golf Course
Saturday, February 23
Greyhound Gathering / Walkabout
10:00 AM – 11:00 AM
Brownwood Square (Meet at Theatre)