"Must Read" Articles:
Differences with
Greyhound
Blood Work
What to do if Your
Greyhound is Lost

Buy dog food & help greyhounds ...


Free Shipping on Dog and Cat Food

Welcome to The Villages Greyhound Club
We are a group of individuals who love Greyhounds. We enjoy getting together to talk about our hounds, while educating the public on Greyhound racing as well as Greyhound Adoption.
We do this through activities in the community. Our Greyhounds love spending time with each other at gatherings in the town squares, here in The Villages and other venues in our area.
If you are interested in joining our group, even if you do not have a Greyhound, you are most welcome! Please feel free to contact me at 352-753-6563.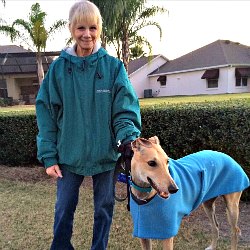 Carol Bellavia, President
Beginning NOW we are selling Raffle Tickets for TWO ORIGINAL PAINTINGS: the first one is of Garlic, the first greyhound to escape the Macau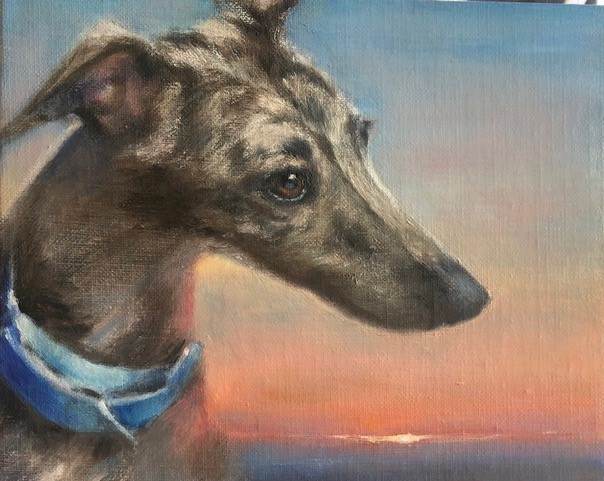 Canidrome, entitled: "Sun Rises on a New Life for Garlic" — AND — the other painting will be of The Winner's Choice (one dog) from a photograph. These are 10" by 8" original oils by Monica Dahl. They are spectacularly, sensitively done as the artist has also been blessed by a greyhound in her life. Garlic's name derived from the fact that this seemed to be the only word she reacted to when her adoptive Mom, Edith Lam in Macau, came to get her. So "Garlic" she became. EDITH has an hysterical sense of humor as you can see from the squid hat photo she posted of dear Garlic for April Fool's Day (HA HA HA).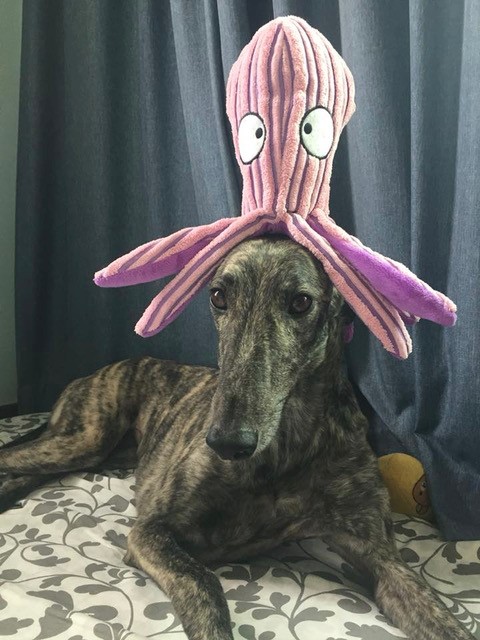 Auction proceeds will be used to help transport the remaining 650 dogs still in Macau at the worst dog track in the world, the Canidrome, to new homes. The dogs' first stop will likely be Europe, and there could be plans to enable adoptions in the United States. First step is to get them out of Macau and into safety.
Tickets can be purchased NOW via a check made out to GAF OR to PayPal as a donation referencing "Garlic." Ticket pricing is $20 for 8 tickets, $10 for 3 tickets and $5 for a single ticket. $10 is the minimum for a PayPal donation. Checks made out to GAF should be mailed to: Greyhound Adoptions of Florida, P.O. Box 955, Sparr, FL 32192-0955. Raffle ticket numbers will be assigned at Grey Haven on receipt of payment.
OR you can attend the Open House at Grey Haven on 21 April and buy your raffle tickets in person, as well as be part of our get together with friends and dogs. We'd prefer that and we'd love to see you all!
| | |
| --- | --- |
| Our site is best viewed by using Google | |

Upcoming Events:
Greyhound Gathering / Walkabout
CANCELED
Saturday, April 14
10:00 AM - 11:00 AM
Brownwood Square
Greyhound Gathering / Walkabout
Monday, April 30
6:30 PM – 7:30 PM
Spanish Springs Square
Greyhound Gathering / Walkabout
Thursday, May 10
6:30 PM - 7:30 PM
Lake Sumter Landing
Greyhound Gathering / Walkabout
Saturday, May 26
10:00 AM - 11:00 AM
Brownwood Square