"Must Read" Articles:
Differences with
Greyhound
Blood Work
What to do if Your
Greyhound is Lost

Buy dog food & help GAF


Free Shipping on Dog and Cat Food

Welcome to The Villages Greyhound Club
We are a group of individuals who love Greyhounds. We enjoy getting together to talk about our hounds, while educating the public on Greyhound racing as well as Greyhound Adoption.
We do this through activities in the community. Our Greyhounds love spending time with each other at gatherings in the town squares, here in The Villages and other venues in our area.
We try to raise money, through various fundraisers, to benefit Greyhound Adoptions of Florida in Citra, Florida, from where many of us have adopted our dogs.
If you are interested in joining our group, even if you do not have a Greyhound, you are most welcome! Please feel free to contact me at 352-753-6563.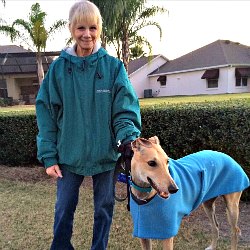 Carol Bellavia, President

| | |
| --- | --- |
| Our site is best viewed by using Google | |

New Fundraising Effort for GAF ...
Help GAF win up to $500 by taking part in the Walk & Win Challenge from WoofTrax. In addition to a few $500 prizes there will be $25 and $50 prizes awarded too.
How to participate:
* First, you MUST download the most recent version of the Walk for a Dog app through either the AppStore or GooglePlay.
* Then, walk! A walk of at least 1/4 mile can be a winning walk as long as you are using the most recent version of the Walk for a Dog app. Check out the Walk & Win page for an updated list of winning walks and additional information about the challenge.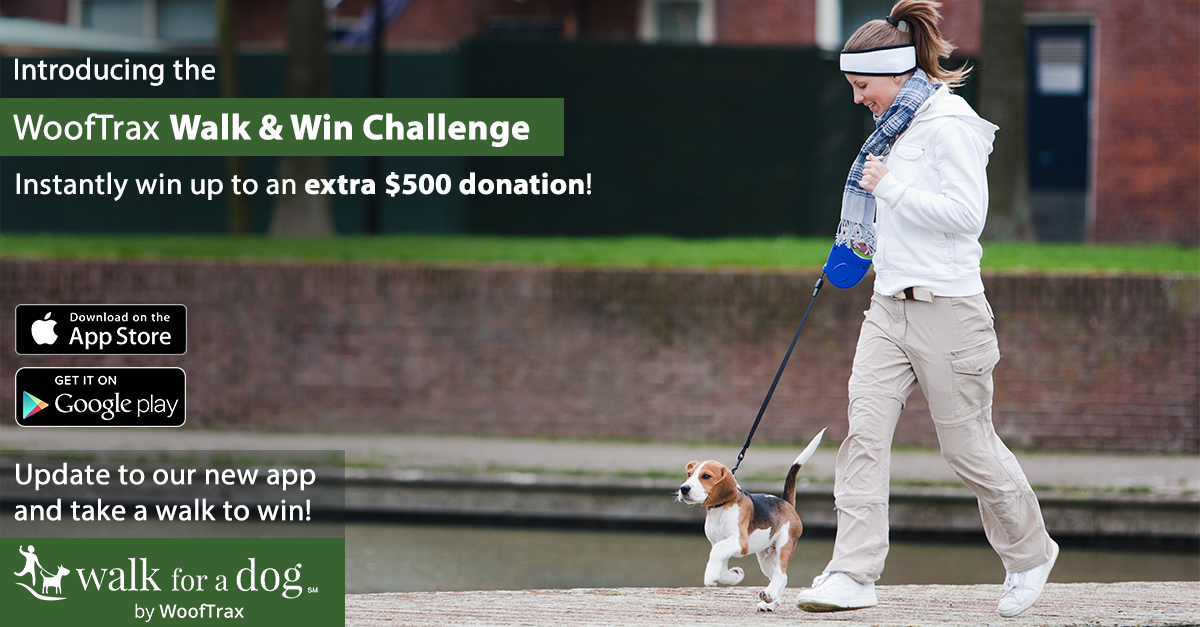 Spread the word to your friends and family with dogs to help get more walkers for GAF! The more people walking for GAF during this challenge, the greater the chance GAF will win an extra instant donation.
Jacquelyn L. "Jackie" O'Hara
Our club lost a very special member on Wednesday, August 17th. Jackie was one of the original founders of The Villages Greyhound Club. Almost 13 years ago, she and Enis Bissonnette decided to see if they could start a Greyhound Social Club here in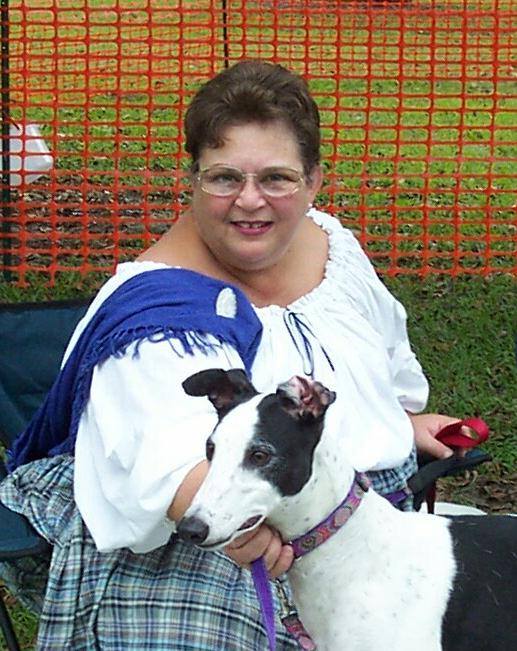 The Villages. Jackie filed the papers with The Villages, and the first meeting was held with 14 people in attendance. They all shared the same common love ... Greyhounds! The club started out, and still is, a social club, where Greyhounds and their humans can get together, discuss any special needs like food, digestive issues, veterinarians, behaviors and so much more.
The group would take their Greyhounds to Doggie Do Run, Run, late in the day, when no one else was there. The Greyhounds would run to their hearts content, and splash around in the wading pools set up there. We are going to see if we can start that fun activity back up in this next season to carry on some of the traditions Jackie started.
Jackie began the Fundraising campaigns to help Greyhound Adoptions of Florida (GAF) care for the many dogs that were coming off the track, she began with pancake breakfasts at what is now known as Cody's (had a different name back then), then luncheons at Carrabba's Italian Restaurant. Enis started the Walkabouts in the town squares of the Villages to get the dogs out in front of the public. Not many people had ever seen a Greyhound and were amazed at their gentle, loving nature.
Jackie kept us all on track with our fundraisers, she was always there for the club and for GAF. She would cook the most amazing food for everyone who went up to GAF to work in the Memorial Garden. I think that's one reason most people volunteered to go pull weeds and clean up the garden ... Jackie's cooking!!!
We will miss this special lady, her wonderful smile, and her infectious laughter. RIP Special Lady ... you were one of a kind!

Upcoming Events:
Greyhound Gathering / Walkabout
Saturday
January 28
10:00 AM – 11:00 AM
Brownwood Square
Pancake Breakfast to Benefit GAF
Saturday
February 4
8:00 AM - 10:00 AM
Applebee's
More Information
Greyhound Gathering / Walkabout
Tuesday
February 21
6:30 PM – 7:30 PM
Lake Sumter Landing
Night Golf
Saturday
February 25
Starts @ Dark Until Play is Finished
Saddlebrook Golf Course
More Information